The access analysis of the Home Page of WatanabeSato and Fuzita's site

According to the retirement of the author of Japanesse Culture for foreigners, World Culture for Japanese and some other contents were were rlocated to the site of the author himself from April 2008.


The access history of the Fujita's site



As to the accesses before the April of 2008, the contents that were ought to be the ones of Fuzita's site are treated as Fuzita's site.
The old version of "Small Construction Dictionary" was relocated to Fuzita's site in the name of "Old Construction Dictionary".
The accesses to Watanbesato's site is decreasing rapidly, probably because the new edition of "Small Construction Dictionary" is not well known to the public. The old "Small Construction Dictionary" was transfered to Fuzita's site. The accesses to Fuzita's site is increasing accordingly.
The accesses to Japanese Culture and World Culture are decreasing. Probably the appearances of more interactive sites such as SNS or Twitters explains the decrease. Visitors like to not only viewing the contents but also like to have discussions instantly or directly.

Ranking by countries regarding file views in May of 2019 at Fuzita Site
The pages for japanese culuture were relocatet to Fuzita site from WatanabeSato site. Accordingly the access from foreign countries concentrate in Fuzita's site. The below is the Result of Fuzita's site.
Remarkable are Philipine coming up to 4th pushing away Canada, and Russia coming up to 7th (formerly around 50th). Probably the plenitude of Google translating service accounts for the increase of accesses from Russia. v
1
America
372028
41
Sweden
54
81
Uzbekistan
1
121
Guatemala
0
2
Australia
84467
42
United Arab Emirates
54
82
Belarus
1
122
Suriname
0
3
Germany
12398
43
Norway
45
83
Oman
1
123
Nicaragua
0
4
China
6542
44
Qatar
39
84
Algeria
1
124
Venezuela
0
5
Korea
2433
45
Greek
29
85
Nigeria
1
125
Costa Rica
0
6
Canada
2085
46
Pakistan
27
86
Gabon
1
126
Ecuador
0
7
Indonesia
1909
47
Denmark
25
87
Libya
1
127
Panama
0
8
France
1135
48
Egypt
25
88
Kenya
1
128
Bolivia
0
9
Philippines
1072
49
Belgium
17
89
Senegal
1
129
South America
0
10
Brasil
964
50
former-USSR
14
90
Brunei Darussalam
1
130
&Aring:land
0
11
India
559
51
Kazakhstan
13
91
Laos
1
131
Faroe Islands
0
12
Russia
504
52
Cote d'Ivoire
12
92
Puerto Rico(US)
0
132
Greenland
0
13
Italy
501
53
Portugal
10
93
Samoa
0
133
Iceland
0
14
Netherlands
405
54
Saudi Arabia
10
94
Aruba
0
134
Luxembourg
0
15
Hong Kong
371
55
Peru
9
95
Belize
0
135
Liechtenstein
0
16
Poland
327
56
Chile
9
96
Cuba
0
136
Falkland Islands
0
17
Spain
313
57
Austria
8
97
St.Kitts Nevis
0
137
Isle of Man
0
18
Thailand
290
58
Iran
7
98
Turks & Caicos Isl.
0
138
Bailiwick of Jersey
0
19
Malaysia
285
59
Ireland
6
99
Dominica
0
139
Ascension Island
0
20
Mexico
270
60
Colombia
5
100
Haiti
0
140
Wallis & Futuna Islands
0
21
United Kingdom
222
61
Sri Lanka
4
101
Bahamas
0
141
Martinique
0
22
Singapore
222
62
Holidia
3
102
Barbados
0
142
Andorra
0
23
Madagascar
192
63
Croatia
3
103
Montserrat
0
143
Monaco
0
24
New Zealand
177
64
Lithuania
3
104
Saint Lucia
0
144
Vatican City
0
25
Czech Republic
174
65
Latvia
3
105
British Virgin Islands
0
145
San Marino
0
26
Ukraine
171
66
Slovakia
2
106
Virgin Islands (USA)
0
146
Malta
0
27
Vietnam
151
67
Bulgaria
2
107
Guadeloupe(French)
0
147
Gibraltar
0
28
Finland
134
68
Kirghiz Republic
2
108
Grenada
0
148
Cyprus
0
29
Hungary
129
69
Afghanistan
2
109
Carib•Netherlands
0
149
Albania
0
30
Taiwan
122
70
Bhutan
2
110
Netherlands Antilles
0
150
Europe
0
31
British Indian Ocean Territory
109
71
Dominica Republic
1
111
Curaćao
0
151
Macedonia
0
32
European Union
93
72
El Salvador
1
112
Saint Martin
0
152
Serbia and Montenegro
0
33
Argentina
90
73
Jamaica
1
113
Saint Vincent and the Grenadines
0
153
Bosnia-Herzegovina
0
34
Romania
88
74
Honduras
1
114
Anguilla
0
154
Azerbaijan
0
35
Kuwait
88
75
Paraguay
1
115
Antigua and Barbuda
0
155
Georgia Republic
0
36
Israel
84
76
Bermuda
1
116
Trinidad & Tobago
0
156
Tajikistan
0
37
Turkey
59
77
Montenegro
1
117
Reunion
0
157
Armenia
0
38
Switzerland
58
78
Slovenia
1
118
Cayman Islands
0
158
Turkmenistan
0
39
Republic of Srpska
58
79
Moldova
1
119
Uruguay
0
159
Lebanon
0
40
South Africa
55
80
Estonia
1
120
Republic of Guyana
0
160
Palestine
0
Share of Search Engines in May of 2019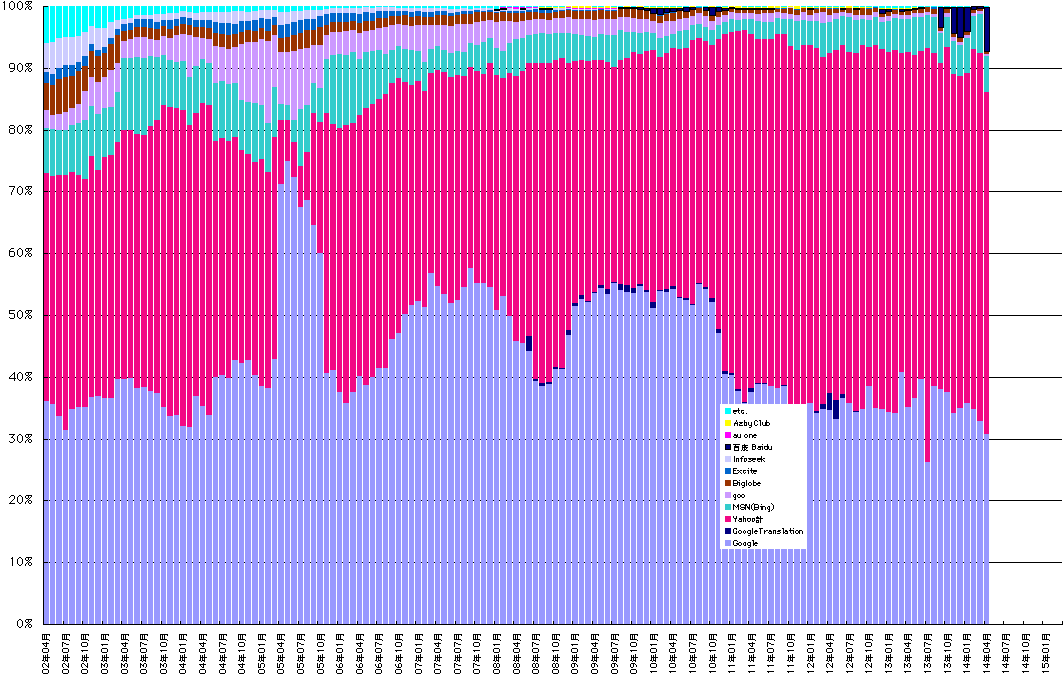 Accesses to WatanabeSato (page view)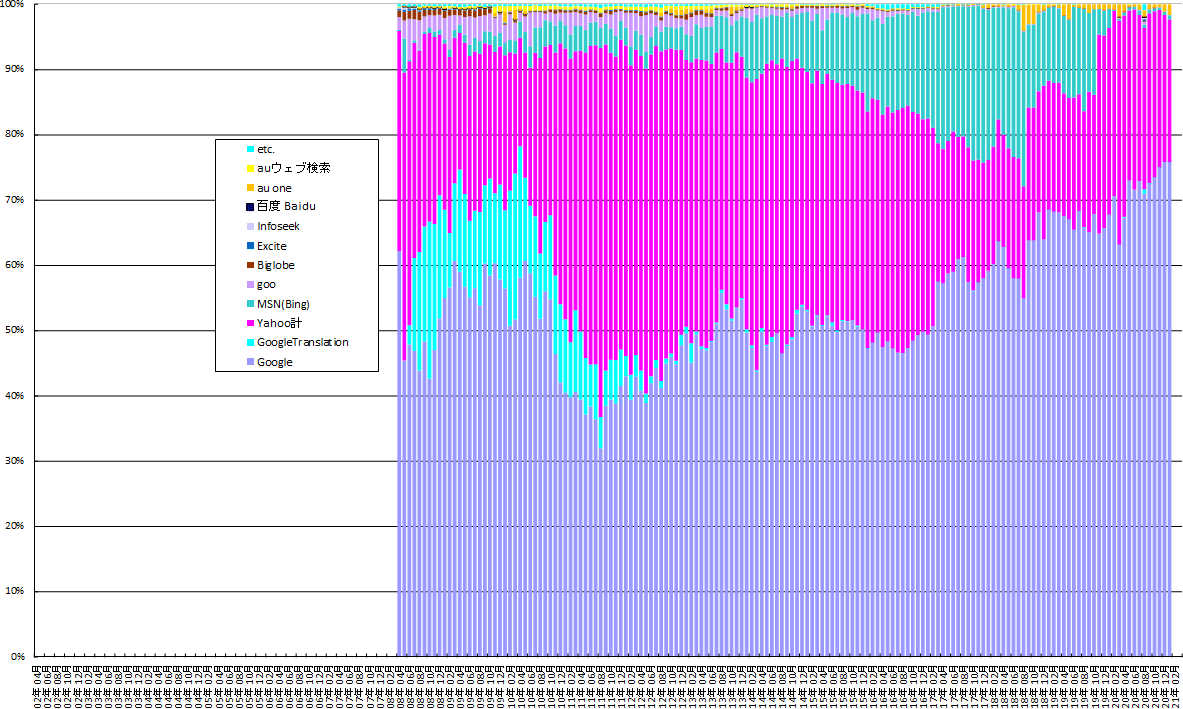 Accesses to Fuzita's site
Yahoo allied with MSN (Bing) as to the data base except in Japan. In Japan Yahoo allied with Google as to the data base. These alliances are both getting remarkable success. The results show the poor data base technology of Yahoo and the excellent displaying technology of Yahoo. MSN (Bing) seems to have very poor data displaying technology.
Ā@The translation between japanese and other languages are still awfully miserable though japanese-Korean and japanese-Chinese are fairly used. The difficulty of translation of japanese is that in japanese grammer, the subject word is not the must and sentences without the subject word are very common.
As a result of unification of MSN (Bing) and Yahoo, Yahoo is recovering the share. In Japan, Yahoo decided to adopt the Google data. This tactic of Yahoo resulted apparent gain in share until 2012. But now losing its share, probably because of the progress of searching technology of other engines, especially as to measure of blocking SEO cheating technique.
The share of browsers varies according to the contents of the site. Watanabesato's site has no english content though some visitors access to the pages of japansed culture which wwre transfered to Fuzita's site as a result of the retirement of the author. In Japan, Yahoo Search Engine is said to have the share. The share of Yahoo at Watanabesoto's site is about 50% probably influenced by the access to former now non-existing japanese culture pages.
Fuzita's site has the pages of japanese culture. As a result, 50% or more of accesses are from foreign countries. This explains the less share of Yahoo search engine.


Share of Browsers in May of 2019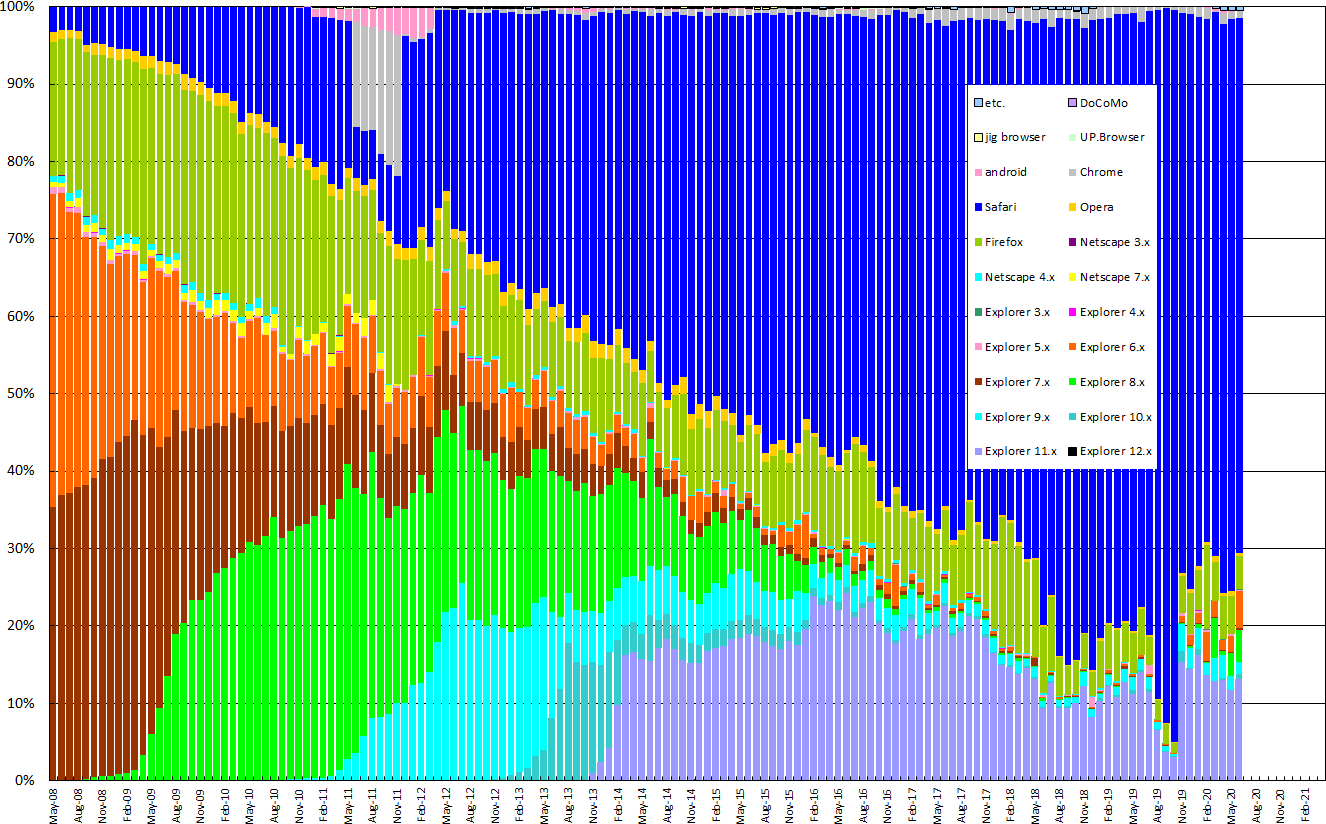 WatanabeSato Site (based on file views)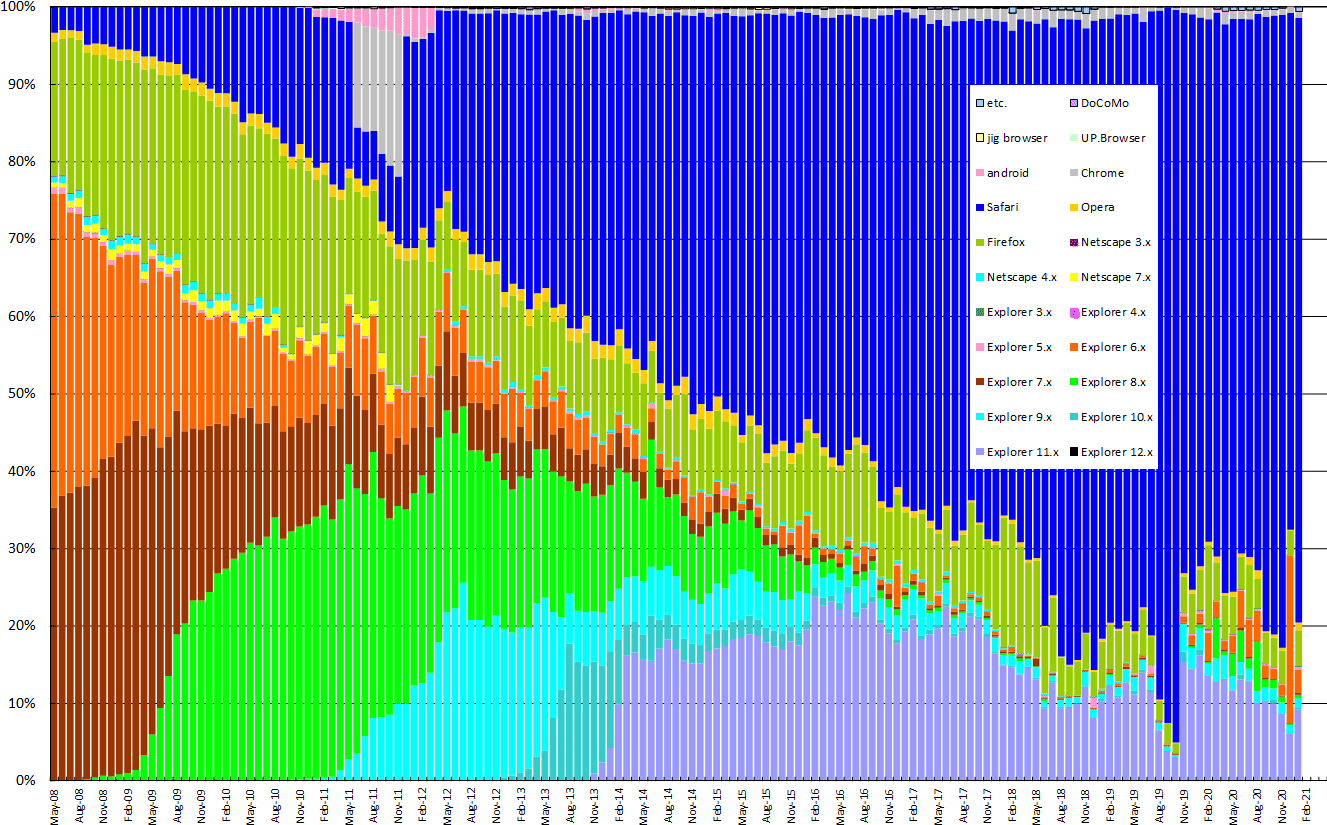 Fuzita's site (based on file views)
*In both of Netscape, Explorer 3.x includes lower versions. Explorer 6.x includes 7.x an 8.x (recently observed)

Among browsers, the trend of share among browsers was analyzed.
IE7 japanese edition was released in November 2006. The share of IE7 is increasing duely but dull. Strange is the fact that the share of share of total IE is slightly decreasing nevertheless the increase of IE7.
Now IE8 has become the mainstream of IE and IE9 can not be neglected. Formerly IE8 and IE9 were included in IE7 in this analysis here. From July 2011 they were separated. Firefox is filling the loss of IE.Probably the users do not need further functional upgrade from Explorer 6.x. Now Safari aquired a firm base. Safari includes iPhone and iPad. The share increase of Explorer 7.x is dull. Chrome and Safari are similar as to HTML browsing method. Until May 2011 Chrome and Safari were not discriminated. Now the Chrome of Google is becoming the strongest competitor against the Explorer of Microsoft.
The decrease of Explorer 7.x in WatanabeSato may be explained the conservative tendency of japanese people that as far as they are fairly content with present browser, they are reluctant to upgrade to new edition nor try and change to other browsers.
As a result of the transferring the "Construction dictionary" to Fuzita's site, the share of Explorer is increasing in Fuzita's site. The difference of share of browsers between Watanabesato's site and Fuzita's site is explained also by the difference of contents as in the case of Search engines.